Do you know that although Christmas is still five (5) long months away it is not forbidden to get yourself a nice present now.
That is just what I did.
I was cycling through the 8th arrondissement close to the Interior Ministry more precisely still in Rue Miromesnil and I came accross this wonderful shop for old camera amateurs.
Antique Camera is its name.
The owner is a living camera dictionary and he is ready to share his knowledge.
On the spur of the moment I stepped in and asked whether he would have in stock a very specific camera I have been trying to lay my hands on lately. I knew the chances were extremely low.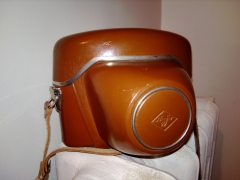 Well, as they say, all the winners did play...