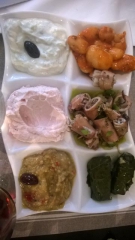 The hot summer in Paris should lead you away from the traditional French cuisine with its cream and butter. At least that is what it does to me. So I ended up with a friend in a Greek restaurant. 'Odyssée' is located 54 rue Daguerre in the 14th. You know Daguerre, he is one of the inventors of photography along with Niepce also in France and in the UK, Talbot.
The ambiance for a mid-week day was quite nice. The maitre d' very nonplussed but diligent brought excellent dishes. Fried cod with fried zucchini in garlic sauce for me, a mix of cold starters for my friend. The house red was round, tasty and powerful. Halva for dessert and - of course - Greek coffee.
All in all a very good experience which I can only recommend.