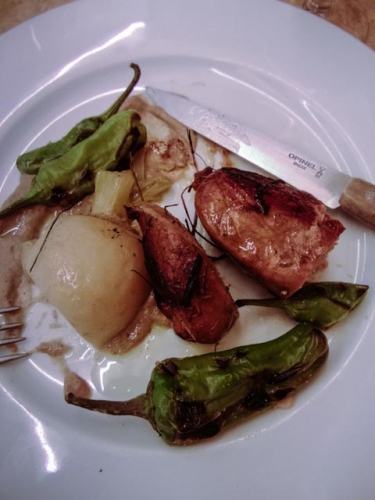 I recently had the pleasure to be introduced to a new (for me) place. This smallish restaurant offers only two main courses every day. So no lengthy menu filled with deep frozen prefab dishes here.
And they favour forgotten or out of fashion vegetables which I find a very good idea.
I had a kind of sausage which happened to be very tasty with turnips and green peppers. The combination was just perfect. The picture above does not convey the tastes but just looking at it makes me hungry.
The red wine on offer (Savoie) was very drinkable. And the dessert simple and in line with the rest.
Service was friendly but had no time for a chat.
That was provided by the two very pleasant people I had lunch with...
I hear that in the evening 'Aux deux amis' turns into a tapas bar. That would be worth a try I am sure.