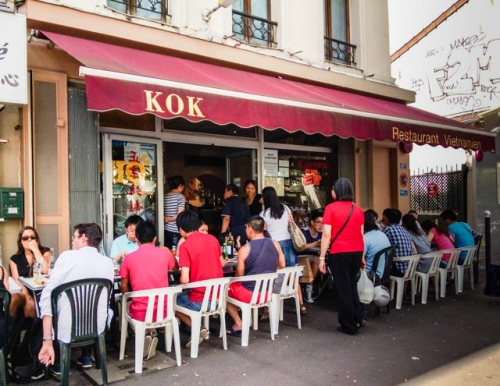 Last Sunday evening I just felt I had to get some Asian food. It had been one of my favourite food, the one my mother would cook on special days. She was quite a good cook. And as so many people who had lived in Indochina she had fallen in love with this country, its population and its food.
My feet led me to a red awning restaurant. Why this one ? It is hard to say. The tables outside were packed with clients mainly Asian. I took that as a good sign.
One inside a middle aged matron led me to tha table. Her French was limited but I still grasped that she recommended the Tonkinese soup. At € 7.50 the large version I found it a good deal. A large bowl filled with noodles, meat balls, slices of beef and broth. On the table a plate with fresh peppermint, soy, onion rings one can add to the soup.
It was a simple yet delicious soup.
Some candied ginger and a jasmine tea completed a perfect dinner.
The place is named Kok and is located 129 bis avenue de Choisy in Paris 13th.